Religion and Progressive Activism About: New Stories Faith and Politics
(New York University Press, 2017)
Edited by Ruth Braunstein, Todd Nicholas Fuist, and Rhys H. Williams
nyupress.org/books/9781479852901
To many mainstream-media saturated Americans, the terms "progressive" and "religious" may not seem to go hand-in-hand. As religion is usually tied to conse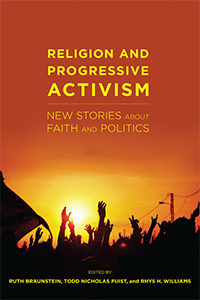 rvatism, an important way in which religion and politics intersect is being overlooked. Religion and Progressive Activism focuses on this significant intersection, revealing that progressive religious activists are a driving force in American public life, involved in almost every political issue or area of public concern.
This volume brings together leading experts who dissect and analyze the inner worlds and public strategies of progressive religious activists from the local to the transnational level. It provides insight into documented trends, reviews overlooked case studies, and assesses the varied ways in which progressive religion forces us to deconstruct common political binaries such as right/left and progress/tradition.
In a coherent and accessible way, this book engages and rethinks long accepted theories of religion, of social movements, and of the role of faith in democratic politics and civic life. Moreover, by challenging common perceptions of religiously motivated activism, it offers a more grounded and nuanced understanding of religion and the American political landscape.
Reviews
"Social scientists have invested a great deal of energy in trying to understand the religious right, but not nearly enough time and effort has been devoted to the crucial role, in our past and present, of the religious left. This book is thus an enormous contribution and a groundbreaking work. This timely volume shatters the myth of the religious right's monopoly on faith-based political activism. While acknowledging the difficulties confronted by religious liberals in organizing for social justice, the authors provide a wealth of new evidence-based insights about how to strengthen the progressive religious movement at a time when its witness is badly needed."
—E.J. Dionne Jr., Author of Why the Right Went Wrong
"Much of our current understanding of religion and politics is based on studies of the activism of conservative, even extremist forms of religious practice. But historically that is not necessarily the most important connection. In the 19th Century progressive religious groups were instrumental to abolitionist and woman's suffrage movements. And in the current context religious groups have a leading role in many struggles for justice. Braunstein, Fuist, and Williams' volume brings together some leading scholars of religion to look at some of the most important cases and theorize what they mean for our understanding of religion and social activism."
—David Smilde, Charles A and Leo M Favrot Professor of Social Relations, Tulane University