New book on shared values in the US
Wayne Baker. 2014. United America: The surprising truth about American values, American identity, and the 10 beliefs that a large majority of Americans hold dear. ReadTheSpirit Books.
Americans may seem to be hopelessly divided, but UNITED AMERICA shows that Americans are united by a set of 10 core values—values that are strongly held by a large majority, shared across demographic, religious and political lines, and stable over time. Based on four national surveys conducted by the University of Michigan Institute for Social Research, these 10 values include respect for others, symbolic patriotism, freedom of expression, pursuit of happiness, and justice and fairness. The book is written in an accessible style for a general audience. Free discussion guides and other resources are available www.UnitedAmericaBook.com.
New book on the Origins of Policy Ideas (Forthcoming April)
John L. Campbell & Ove K. Pedersen. 2014. The National Origins of Policy Ideas: Knowledge Regimes in the United States, France, Germany, and Denmark. Princeton, NJ: Princeton University Press.
In politics, ideas matter. They provide the foundation for economic policymaking that in turn shapes what is possible in domestic and international politics. Yet until now, little attention has been paid to how these ideas are produced and disseminated, and how this process varies between countries. The National Origins of Policy Ideas provides the first comparative analysis of how "knowledge regimes"—communities of policy research organizations like think tanks, political party foundations, ad hoc commissions and state research offices, and the institutions that govern them—generate ideas and communicate them to policymakers.
John Campbell and Ove Pedersen examine how knowledge regimes are organized, operate, and have changed over the last thirty years in the United States, France, Germany, and Denmark. They show how there are persistent national differences in how policy ideas are produced. Some countries do so in contentious, politically partisan ways,
while others are cooperative and consensus oriented. They find that while knowledge regimes have adopted some common practices since the 1970s, tendencies toward convergence have been limited and outcomes have been heavily shaped by national contexts.
Drawing on extensive interviews with top officials at leading policy research organizations, this book demonstrates why knowledge regimes are as important to capitalism as the state and the firm, and sheds new light on debates about the effects of globalization, the rise of neoliberalism, and the orientation of
comparative political economy in political science and sociology.
Participation and its Discontents: a section blog discussion and ASA conference workshop
The Editors in Chief of Mobilizing Ideas are very pleased to announce the launch of a new project sponsored by the Political Sociology section, which we are calling the Participation Initiative. At the ASA meetings in San Francisco, we will be dedicating one of our section sessions to an alternative, workshop-style format on the topic of "Participation and its Discontents." Beginning with an open blog discussion (which we are launching today!) this session will not include formal paper presentations, but rather rely on short memos and moderated discussion among scholars working in this area. We invite a broad conversation that looks at the topic of "participation" in context, avoiding assumptions that it is inherently transformative or irremediably regressive. The discussion will be moderated by Gianpaolo Baiocchi, Pablo Lapegna, Phillip Lewin and David Smilde. Phillip Lewin has developed a fantastic new blog in which to begin the first phase of the discussion, which can be found here: http://participationanditsdiscontents.tumblr.com/
Shortly before ASA 2014, the four moderators will draw from the exchanges generated in the blog to propose discussion questions for the session. Participants will be asked to come prepared to discuss them. In the meantime, you can participate by (a) proposing blog posts to the moderators (via the link on the site) or (b) responding to blog posts via the comment sections. The moderators hope to post about one essay each week and invite a vigorous and feisty (albeit civil and constructive) discussion.
So please take a look today, and keep taking a look over the upcoming weeks and months! http://participationanditsdiscontents.tumblr.com/
"Social Trauma, Emotions, and Activism" essay dialogue
Mobilizing Ideas has recently launched a new essay dialogue entitled "Social Trauma, Emotions, and Activism." We invited contributors to reflect on how trauma and activism are related, focusing on questions such as: How do shared traumas like war, genocide, or natural disasters provide fuel for or obstacles to mobilization around those or other societal problems? Under what conditions are social traumas likely to result in mobilization, and are those mobilizations more likely to be focused on reconciliation or retaliation? When are narratives and frames that incorporate experiences of trauma likely to resonate and motivate, and when are they likely to further traumatize activists? Essays in this first round of posts on this topic focus on various empirical cases, including the Holocaust, the Israeli-Palestinian conflict, and South African Apartheid. As always, we invite you to join the discussion by posting comments on the posts.
New book on Public Opinion and Lawmaking in the US
Paul Burstein. 2014. American Public Opinion, Advocacy, and Policy in Congress: What the Public Wants and What It Gets. Cambridge, UK: Cambridge University Press.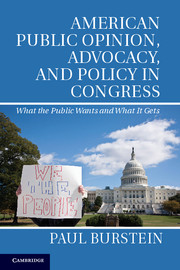 Between one election and the next, members of Congress introduce thousands of bills. What determines which become law? Is it the public? Do we have government "of the people, by the people, for the people?" Or is it those who have the resources to organize and pressure government who get what they want? In the first study ever of a random sample of policy proposals, Burstein finds that the public can get what it wants – but mainly on the few issues that attract its attention. Does this mean organized interests get what they want? Not necessarily – on most issues there is so little political activity that it hardly matters. Politics may be less of a battle between the public and organized interests than a struggle for attention. American society is so much more complex than it was when the Constitution was written that we may need to reconsider what it means, in fact, to be a democracy.
Postdoc position available with PERSOS, Department of Political Science and Government, Aarhus University
A position as postdoc is open with the research group PERSOS (Perceptions of Social Stratification and Voting) at the Department of Political Science and Government, Aarhus University in Denmark.
PERSOS is a newly established research group on voters' subjective perceptions of social stratification, their own place in the social structure (i.e., their social identity), the linkages between social groups and political parties, and the implications of such perceptions and identities for party evaluations and voting. Main interest concerns the investigation of perceptions related to social class and/or education.
The group is financed by the Danish Social Science Research Council for the period 2014-2017. The senior researchers of the group are Rune Stubager, Gitte Sommer Harrits, Jens Peter Frølund Thomsen, Helene Helboe Petersen, and Rune Slothuus. The postdoc position offers attractive conditions for independent as well as collaborative research within a small research group. The position will imply approximately 35% teaching, primarily seminar teaching for MA students in English. Through the research group, the postdoc will have access to funding for travel and data collection.
Applicants are expected to hold (or be close to completing) a PhD in political science, sociology, or a related social science field. In addition to interest in conducting independent as well as collaborative research within the focus of PERSOS, applicants must demonstrate the ability to conduct state-of-the-art research within the field, possess strong methodological skills, extensive experience with quantitative, empirical research, and an excellent command of spoken and written English. The position is expected to last 2 years starting in the Fall of 2014, however both duration and starting date can be negotiated. Salary is according to the Danish pay schedule (in case of employment immediately after the acquisition of the PhD degree approximately 380.000 DKK (€ 51,000) a year plus 17.1% pension contribution) with opportunities for reduced taxation.
PERSOS is located in the Department of Political Science and Government, Aarhus University, which is a leading North European department with about 55 faculty members and 1,600 students. The department offers a lively and ambitious research and teaching environment with many international visitors and ongoing workshops. The city of Aarhus is a lively student city with about 300,000 inhabitants, see http://www.visitaarhus.com/ and http://www.internationalcommunity.dk/living-arhus.
Interested scholars may send a CV and a short statement of research interests to the project leader, Professor Rune Stubager by e-mail to: stubager@ps.au.dk before March 1, 2014. Candidates may be asked to submit a short research proposal and participate in an interview.
New Books by Section Members
The Recent Books section of the website has four new additions. Read about them there or click the images below to go to the publisher's website.
New Website!
As you may have noticed, the Political Sociology section now has a new website.
Most of the content from the old website has been moved over. The latest edition of the newsletter and the most recent calls for papers can be found in the right sidebar for easy reference. More static information can be found in the menu items on the left.
If you have any feedback on this redesign, or any ideas on how the site can be improved upon (new sections, etc.) please contact Jason O. Jensen or Ann Mische with your comments.
Political Sociology Section Sessions 2014
1. Democratic Challenges in Emerging Global Protests: Reconfiguring Publics and Institutions in a Neoliberal Era
Organizer: Ann Mische, University of Notre Dame
The recent wave of global protest poses new challenges to democratic practice and institutions. Focusing on issues of democracy, social and economic inequality, corruption, urban space and public services, these protests raise vexing questions related to political autonomy, institutional authority, popular representation, and internal process. This session invites papers on the reconfiguration of publics and institutions provoked by such movements in the context of global neoliberalism.
2. The Politics of Representation
Organizer: Stephanie Mudge, UC-Davis
This panel invites papers addressing the problem of political representation, broadly conceived. A wide variety of approaches are welcome, including organizational, institutional, and/or cultural perspectives. Papers might focus on formal structures (states, electoral systems, movements, networks, political parties, etc.), and/or on culture, knowledge, ideology, media, symbolism, and dramaturgy. Of particular interest is how social and economic inequalities interact with representative politics.
3. The New Politics of Firms and Industries
Organizer: Edward Walker, UCLA
The politics of the corporation is undergoing changes, due to recent movement challenges to corporate power, widening inequalities, and the rise of more flexible, seemingly egalitarian firms. These changes call for a return to corporate power structure research, using insights from social movement theory, organizational theory, economic sociology and the sociology of democracy. This panel invites submissions that broaden understandings of contemporary firms and the fields in which they operate.
4. The Politics of Immigration and Citizenship
Organizer: Catherine Lee, Rutgers University
The rise of anti-immigrant activism and increasing states' efforts to curb immigration highlight the limits of post-national accounts of citizenship, while the growing political clout of recent immigrants and new forms of social mobilization suggest their continued relevance. This panel welcomes papers that explore the complexity of recent and related historical developments, including research focusing on immigration, citizenship, nationalism, state sovereignty, policing, and social movements.
5. Re-conceptualizing the Politics of Corruption
Organizers: Nicholas Wilson, Yale University, and Siri Colon, UC Berkeley
"Corruption" is usually taken to mean either incentive structures that produce "perverse" outcomes or as the imposition of outside norms upon local practices and structures. This panel welcomes analyses that challenge normative assumptions about the nature and definition of corruption, examining how corruption works across a wide variety of settings, such as states, government agencies, military or security organizations, NGOs, corporations, social movements, communities, families and beyond.
6. Participation Initiative
Organizers: David Smilde (University of Georgia), Gianpaolo Baiocchi (New York University) and Pablo Lapegna (University of Georgia)
Discussions of civic and political participation seem to go through waves of enchantment and disenchantment. This workshop-style session will invite a broad conversation that looks at participation in context, avoiding assumptions that it is inherently transformative or irremediably regressive. Beginning with an open blog discussion (to be launched in January 2014), this session will not include formal paper presentations, but rather rely on short memos and moderated discussion among scholars working in this area.
7. Roundtables/Business meeting
Organizer: Isaac Martin
Political Sociology Award Committees 2014
Distinguished Contribution to Scholarship (Book) Award
This award is given annually to the outstanding recent book in political sociology (we will not consider edited books for this award). To be eligible, the book must have a 2013 copyright date. The selection committee encourages self-nominations or suggestions of work by others. Nominations from publishers will not be accepted. To nominate a book for this award: 1) send a short letter (via e-mail) nominating the book to each committee member below and 2) have a copy of the book sent to each committee member, at the addresses below. Winners will be notified and announced prior to the ASA meetings allowing presses to advertise the prize-winning book. The deadline for nominations is March 15, 2014.
Committee Chair:
Edward Walker, University of California, Los Angeles
Department of Sociology
University of California, Los Angeles
264 Haines Hall
Los Angeles, CA 90095
E-mail: walker@soc.ucla.edu
Committee Members:
Kathleen Fallon, Stony Brook University
Department of Sociology
Stony Brook University
Stony Brook, NY 11794-4356,
Email: kathleen.fallon@stonybrook.edu

Nathan Martin, Arizona State University
Arizona State University
School of Social Transformation
PO Box 876403
Tempe, AZ 85287-6403
Email: ndm@asu.edu

Tom Medvetz, University of California, San Diego
Department of Sociology
401 Social Science Building
9500 Gilman Drive #0533
University of California, San Diego
La Jolla, CA 92093-0533
Email: tmedvetz@ucsd.edu
Distinguished Contribution to Scholarship (Article or Book Chapter) Award
This award is offered annually for the outstanding recently published article or chapter in political sociology. To be eligible, submissions must have a 2013 publication date. The selection committee encourages either self-nominations or suggestions of work by others. (Please note that each author may have only one article nominated.) A brief nomination letter and a copy of the article or chapter should be sent to each selection committee member at the e-mail address below. The deadline for nominations is March 15, 2014.
Best Graduate Student Paper Award
This award is offered annually for the best graduate student paper in political sociology. Persons who were graduate students at any time during calendar year 2013 are invited to submit published or unpublished papers for this award. To be eligible, papers must be either single authored or co-authored by two or more graduate students. Articles co-authored (and/or subsequently published jointly) by a faculty and a student are not eligible. Please note that each author may have only one article nominated. A brief nomination letter and a copy of the article or chapter should be sent to each selection committee member at the e-mail addresses below. The deadline for nominations is March 15, 2014.
Qualitative Sociology Special Issue
"Reassembling Ethnography: Actor-Network Theory and Sociology" (Rebecca Hanson)
Qualitative Sociology's December issue (V. 36 N. 4) explores the purchase of Actor-Network Theory (ANT) for qualitative and ethnographic sociologies. Founded in the early 1980s by Bruno Latour, Michel Callon, and John Law, ANT has become one of the most exciting and innovative intellectual developments in recent memory. Originally developed as an alternative approach in the sociology of science, it has long professed and exhibited usefulness in the analysis of all arenas of social life. Although ANT concepts, theories, and sensibilities have been taken up across the social sciences and humanities, sociology, particularly within the U.S. context, has lagged.
Envisioned as an exercise in translation, this special issue introduces, engages, and expands on many of ANT's signature features, such as its skepticism towards taken-for-granted divisions, categories, and concepts, its attention to processes of circulation, its interest in the relational interface between humans and nonhumans, and finally its appreciation for uncertainty and multiplicity. After an ANT-inspired introduction that traces the assembling of the special issue written by guest editors Gianpaolo Baiocchi (NYU), Diana Graizbord (Brown University) and Michael Rodríguez-Muñiz (Brown University), the issue features seven empirically rich and theoretically provocative essays on art, materiality and meaning-making; devices of democratic representation; independent film and the formation of "civil society;" urban social movements and the limits of parliamentarian politics; genomics and science of race; the conversion of religious buildings; and reflexivity in sociological account-making. The issue concludes with a thoughtful and thought-provoking essay by ANT founder, John Law, and Vicky Singleton, that explores the origins and afterlives of ANT. Calling for a serious engagement, this special issue is sure to stimulate discussion and debate about ANT's potential to inspire a deeper, wider, and more robust ethnographic imagination.This issue is now available online at http://link.springer.com/journal/11133/36/4/page/1.
ASA Major Awards nominations
From now and until January 31, 2014, ASA is accepting nominations for its nine major awards. Each August the American Sociological Association proudly presents awards to individuals and groups deserving of recognition. Here is a video to this past year's ASA Awards Ceremony: Check it out!
ASA members are encouraged to submit nominations for the following ASA awards. The deadline for nominations is provided with each award criteria. Award selection committees, appointed by ASA Council, are constituted to review nominations. These awards are presented at the ASA Annual Meeting each August. Again, the deadline for submission of nominations is January 31st, 2014. Currently, the ASA presents the following awards:
Distinguished Book ASA Major Award
Excellence in the Reporting of Social Issues ASA Major Award
Jessie Bernard ASA Major Award
Cox-Johnson-Frazier ASA Major Award
Award for the Public Understanding of Sociology ASA Major Award
Distinguished Career ASA Major Award for the Practice of Sociology
Distinguished Contributions to Teaching ASA Major Award
W.E.B. DuBois Career of Distinguished Scholarship Award
Any questions or concerns should be sent to Governance at governance@asanet.org. We hope you will help us find those special sociologists who deserve this kind of recognition. Spread the word!