Urgent request from ASA President Paula England
NEED FOR IMMEDIATE ACTION BY SOCIOLOGISTS
To my fellow members of the American Sociological Association:
National Science Foundation (NSF) research funding for the social sciences is threatened with a 45% cut in a bill that will be debated on the House floor during the week of May 18. I urge you to write to your member of Congress before that debate.
You can do this easily right now. Go to the COSSA Action Center to sign up and take action by asking your representative to oppose theAmerica COMPETES Act of 2015 (H.R. 1806).
On April 15, House Science Committee Chairman Lamar Smith introduced the America COMPETES Reauthorization Act of 2015 (H.R. 1806), the authorization bill for the National Science Foundation (NSF). Like last year's version of this legislation (the FIRST Act), this bill sets arbitrary funding levels for NSF's research directorates and would impose a massive 45% cut on the Social, Behavioral, and Economic Sciences Directorate (SBE)–effectively eliminating grant funding for sociology and the other social sciences.
COSSA's full analysis of the bill can be found here.
I hope that social scientists will not sit on the sidelines while issues as vital as sustaining the major source of federal funding for basic social science research are being debated. Unfortunately, many public officials do not feel that basic social science research is a critical public good. But it can make a difference when they hear from their constituents! That's why I urge you to contact your representatives.
In addition, I suggest that you contact your university officials to ensure they are focusing on this threat to basic social science research and are letting members of Congress know the potential harm the Representatives are doing to U.S. universities.
With thanks for your support,
Paula England
President, American Sociological Association
International Journal of Politics, Culture, and Society
This Journal may be of interest to section members. As the title suggests, the journal publishes papers at the intersection of political science and sociology with a cultural focus. The editors prefer papers that integrate innovative theory and new empirical material. But they also publish theoretical pieces if they have a substantive focus.
Editor Patrick Baert encourages you to send him questions, should you have any.
New volume of the Section Newsletter is out
The long-awaited fall 2014 issue of our newsletter, States, Power, and Societies. Many thanks to our newsletter editor, Ben Lind, and to the contributors who made it possible! Get it here.
It's a big issue, packed with announcements, a feature symposium on participation and non-participation, profiles of section-award-winning research, and an interview with one of our two 2014 book award winners, Jocelyn Viterna, about her book Women in War.
Don't miss the section with calls for papers. Because we are distributing the newsletter behind schedule, some of these announcements have deadlines coming up very soon (see right-hand column).
Invitation from Sociologists Without Borders
As you probably know the US Constitution (along with the Bill of Rights) is the oldest in the world – late 18th century – and for that reason is couched in terms of negative rights. (The first amendment begins with "Congress shall make no law…"). Besides civil and political rights stand virtually alone without, say, social and economic rights.
Most constitutions are newer and they include positive human rights (not simply civil and political rights).
Sociologists without Borders is inviting you and your students to devote time during the spring term revising the US constitution in tandem with other classes (Judith Blau did this with two classes and it was a huge, huge success.)
You would pick one domain of human rights for a spring '15 class: social, economic, cultural, women, children, immigrants, LGBT, environment, labor rights, indigenous rights, or, say, political rights.
Mark Frezzo and Judith Blau would provide you and your students with suggestions about other constitutions that might be helpful (e.g., Brazil's is strong in labor rights) and international human rights treaties. The US's and other countries' constitutions are online.
At the end of the semester we would post all classes' proposals on the SSF webpage. There would be opportunities for coauthored articles, or a book project. Please contact Judith at: judith_blau@unc.edu.
Brown Democracy Medal
This year's Brown Democracy Medal competition will recognize an exceptional advance in democratic scholarship, broadly construed. The winner will receive a medal and $5,000 dollar award. Submissions can include conceptual advances, moral philosophical insights, rhetorical, interpretive or historical theories, empirical or causal models, and/or innovations in the design of democratic processes. Both self-nominations and nominations of others' innovations are welcomed. Please see the attachment for details. The deadline for nominations is December 10th. More information here.
Call of Papers from Social Psychology Quarterly
In an effort to expand the breadth of the journal, Social Psychology Quarterly is reaching out to you to encourage Political Sociology section members to consider submitting your work to SPQ. SPQ would like to attract more contributions to the journal from a broad base of researchers who use social psychological approaches. For many in this section, this would include your work.
SPQ is committed to making editorial decisions in a timely manner. While time in review is a product of many things including how long it takes reviewers to provide their advice, our goal is to make a decision within 70 days of submission. If you would like to know more about our perspective, thoughts, and plans for the journal, you can go to: http://www.asanet.org/documents/SPQ%20Proposal%20StetsSerpe.pdf
Please contact Jan E. Stets or Richard T. Serpe if you have any questions about a manuscript or the journal, more generally.
Next Year's ASA section sessions
From the wikipoll results we have:
Gender and politics.
Inequality and representation
Political discourse
The state and racial exclusion (coorganized with the Section on Racial and Ethnic Minorities)
Survey for the ASA Human Rights section
Prof. Kiyotero Tsutsui writes: "In addition to being a proud member of the Political Sociology section, I serve on the Council of the Human Rights Section, and I'm wondering if you could circulate this survey, which seeks input from members and non-members about what needs to be done to make the Human Rights Section a stronger, more vibrant ASA section. If Political Sociology members could fill it in by September 30, we would greatly appreciate any input and use it to rebuild the section. I believe that many Political Sociology members share interest in human rights issues and would like to invite them to join the section. We would also like to offer graduate students and junior faculty reimbursement for the membership fee. Those interested should feel free to email me."
Survey link: https://www.surveymonkey.com/s/ASA-HR_Sep14
New Book on US Welfare Demand
Levitsky, Sandra R.2014. Caring for Our Own. Oxford University Press.
Caring for Our Own inverts an enduring question of social welfare politics. Rather than ask why the American state hasn't responded to unmet social welfare needs by expanding social entitlements, this book asks: Why don't American families view unmet social welfare needs as the basis for demands for new state entitlements? The answer, Levitsky argues, lies in a better understanding of how individuals imagine solutions to the social welfare problems they confront and what prevents new understandings of social welfare provision from developing into political demand for alternative social arrangements.
Caring for Our Own considers the powerful ways in which existing social policies shape the political imagination, reinforcing longstanding values about family responsibility, subverting grievances grounded in notions of social responsibility, and in some rare cases, constructing new models of social provision that transcend existing ideological divisions in American social politics.
ASA is accepting nominations for its nine major awards
From now and until January 31, 2015, ASA is accepting nominations for its nine major awards. Each August the American Sociological Association proudly presents awards to individuals and groups deserving of recognition.
ASA members are encouraged to submit nominations for the following ASA awards. The deadline for nominations is provided with each award criteria. Award selection committees, appointed by ASA Council, are constituted to review nominations. These awards are presented at the ASA Annual Meeting each August. Again, the deadline for submission of nominations is January 31st, 2015. Currently, the ASA presents the following awards:
Distinguished Book ASA Major Award
Excellence in the Reporting of Social Issues ASA Major Award
Jessie Bernard ASA Major Award
Cox-Johnson-Frazier ASA Major Award
Award for the Public Understanding of Sociology ASA Major Award
Distinguished Career ASA Major Award for the Practice of Sociology
Distinguished Contributions to Teaching ASA Major Award
W.E.B. DuBois Career of Distinguished Scholarship Award
Any questions or concerns should be sent to Governance at governance@asanet.org. We hope you will help us find those special sociologists who deserve this kind of recognition.
States, Power, and Societies Newsletter
The latest edition of the Political Sociology Section newsletter, States, Power and Societies is now out and available by clicking here. This newsletter features book and article abstracts, section announcements, descriptions of recent Ph.Ds in political sociology, and interviews with last year's section award winners, Cybelle Fox and Monica Prasad.
Thanks to newsletter editor Benjamin Lind for his hard work pulling this together, as well as to Rachael Chatterson for production assistance.
ASA Symposium: 21st Century Capitalism Reconsidered
Ad Hoc ASA Symposium
Monday, 18 August, 4:30-6:30 p.m. at Glide Church
The themes of both the ISA and ASA this year have been concerned growing inequalities and their consequences. This is generally well known, especially by sociologists, economists, political scientists and others and many others. Then all of sudden, the English translation of a book on the topic catapulted Thomas Pikkety into rock star status, off the charts in sales, and heated discussions on numerous chat groups, lists, social media etc. This also took place on some of the chats of ASA groups. It soon became the hottest topic ever. There were some suggestions that we have an ad hoc session on the topic. In the flurry of discussions, David A Smith and myself, Lauren Langman, somehow became co-organizers of a session. It will be at Glide Church, 330 Ellis across from Hilton. We have a program with a number of highly qualified well known scholars who have long dealt with political economy. Please join us, and forward this notice.
Co-Organizers: Lauren Langman, Loyola University of Chicago, David Smith, University of California, Irvine
Presider: David Smith, University of California, Irvine
Participants: (some folks have not yet confirmed)
Saskia Sassen, Professor of Sociology, Colombia University
Chris Chase-Dunn, Professor of Sociology, University of California, Riverside
Sylvia Wallby, Professor of Sociology, Lancaster University
Basak Kus, Professor of Sociology, Weslyan University
The presentations will be brief and hopefully foster interesting discussions
New Journal: Sociology of Development
The new journal Sociology of Development (published by University of California Press) is ready for manuscript submissions!
The journal webpage, which includes manuscript preparation information, is here: http://www.ucpressjournals.com/journal.php?j=sod
The manuscript submission webpage is here: http://mc.manuscriptcentral.com/ucpress-socdev
Sociology of Development is a new venue for scholarly work that addresses issues of development, broadly considered. Areas of interest include economic development and well-being, gender, health, inequality, poverty, environment and sustainability, political economy, conflict, and social movements, to mention only a few. Basic as well as policy-oriented research is welcome. The journal further recognizes the interdisciplinary scope of development studies and encourages submissions from related fields, including (but not limited to) political science, economics, geography, anthropology, and health sciences. A foundational principle of this journal is the promotion and encouragement of intellectual diversity within the study of development. As such, the journal encourages submissions from all scholars of development sociology, regardless of theoretical orientation, methodological preference, region of investigation, or historical period of study.
New Book on Corruption in Higher Education
Schwartz, Mildred A. 2014. Trouble in the University: How the Education of Health Care Professionals Became Corrupted. Brill.
Mildred A. Schwartz, University of Illinois at Chicago and New York University
In Trouble in the University, Mildred A. Schwartz analyzes how changes in U.S. higher education affecting the health care professions and in the relations between universities and the state have created conditions that can give rise to corruption. Explanations for how the connections between changing conditions and organizational structures can lead to illegal and unethical behavior are uncovered through the study of the University of Medicine and Dentistry of New Jersey. Because that University's experiences were not unique, they can be used to demonstrate how higher education has become vulnerable to corruption. Identification of the structural and cultural sources of corruption also suggest possible ways it could be avoided.
Book Announcements
Fitzgerald, David Scott & David Cook-Martin. 2014. Culling the Masses: The Democratic Origins of Racist Immigration Policy in the Americas. Harvard University Press
Culling the Masses questions the widely held view that in the long run democracy and racism cannot coexist. David Scott FitzGerald and David Cook-Martín show that democracies were the first countries in the Americas to select immigrants by race, and undemocratic states the first to outlaw discrimination. Through analysis of legal records from twenty-two countries between 1790 and 2010, the authors present a history of the rise and fall of racial selection in the Western Hemisphere
The United States led the way in using legal means to exclude "inferior" ethnic groups. Starting in 1790, Congress began passing nationality and immigration laws that prevented Africans and Asians from becoming citizens, on the grounds that they were inherently incapable of self-government. Similar policies were soon adopted by the self-governing colonies and dominions of the British Empire, eventually spreading across Latin America as well.
Undemocratic regimes in Chile, Uruguay, Paraguay, and Cuba reversed their discriminatory laws in the 1930s and 1940s, decades ahead of the United States and Canada. The conventional claim that racism and democracy are antithetical—because democracy depends on ideals of equality and fairness, which are incompatible with the notion of racial inferiority—cannot explain why liberal democracies were leaders in promoting racist policies and laggards in eliminating them. Ultimately, the authors argue, the changed racial geopolitics of World War II and the Cold War was necessary to convince North American countries to reform their immigration and citizenship laws.
David Scott FitzGerald is Associate Professor of Sociology at the University of California, San Diego. David Cook-Martín is Associate Professor of Sociology at Grinnell College.
Walker, Edward. 2014. Grassroots for Hire: Public Affairs Consultants in American Democracy. Cambridge University Press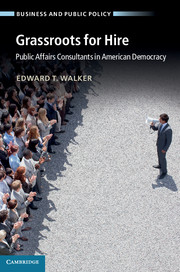 Although 'grassroots' conjures up images of independent citizen organizing, much mass participation today is sponsored by elite consultants working for corporations and powerful interest groups. This book pulls back the curtain to reveal a lucrative industry of consulting firms that incentivize public activism as a marketable service. Edward Walker illustrates how, spurred by the post-sixties advocacy explosion and rising business political engagement, elite consultants have deployed new technologies to commercialize mass participation. Using evidence from interviews, surveys and public records, Grassroots for Hire paints a detailed portrait of these consultants and their clients. Today, Fortune 500 firms hire them to counter-mobilize against regulation, protest or controversy. Ironically, some advocacy groups now outsource organizing to them. Walker also finds that consultants are reshaping both participation and policymaking, but unethical 'astroturf' strategies are often ineffective. This pathbreaking book calls for a rethinking of interactions between corporations, advocacy groups, and elites in politics.
2014 Political Sociology Section Award Winners!
Distinguished Contribution to Scholarship (Book) Award
Co-winners:
Mark Mizruchi (University of Michigan),The Fracturing of the American Corporate Elite (Harvard UP)
Jocelyn Viterna (Harvard University), Women in War: The Micro-Processes of Mobilization in El Salvador (Oxford UP)
Committee:
Chair: Edward Walker (University of California, Los Angeles)
Members: Kathleen Fallon (Stony Brook University), Nathan Martin (Arizona State University); Tom Medvetz (University of California, San Diego)
Distinguished Contribution to Scholarship (Article or Book Chapter) Award
Winner:
Hana E. Brown (Wake Forest College). "Racialized Conflict and Policy Spillover Effects: The Role of Race in the Contemporary U.S. Welfare State." American Journal of Sociology (2013) 119 (2): 394-443.
Honorable Mention:
Xiaohong Xu (National University of Singapore). "Belonging Before Believing: Group Ethos and Bloc Recruitment in the Making of Chinese Communism." American Sociological Review 78 (5): 773-796.
Committee:
Chair: Catherine Lee (Rutgers University)
Members: Anne Costain (University of Colorado), Keith Bentele (University of Massachusetts-Boston), Cheol-Sung Lee (University of Chicago)
Best Graduate Student Paper Award
Winner:
Hassan El Menyawi (New York University). "The Great Reversal: How Nations in the Muslim World Went from Tolerating Same-Sex Practices to Repressing LGB People, 1750—2010".
Committee:
Chair: Greg Hooks (Washington State University)
Members: Stefanie Mudge (University of California, Davis), Tasleem Padamsee (Ohio State University); Charles Seguin (University of North Carolina, Chapel Hill)
New Book on Conscription and State and Paternal Authority
Geva, Dorit. 2013. Conscription, Family, and the Modern State: A Comparative Study of France and the United States. Cambridge University Press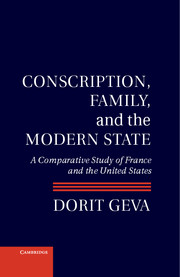 Although the development of military conscription systems is usually seen as a response to countries' security needs, and as reflection of national political ideologies like civic-republicanism, this study of conscription politics in France and the United States challenges such interpretations. On the basis of original archival research, and taking into account the major institutional and ideological differences of the two cases, the book shows how both countries implemented conscription systems shaped by concerns that military service would jeopardize men's presumed positions as heads of families. Policymakers worried that conscripting ordinary family men for military service would affect their roles as breadwinners and figures of paternal authority. By tracing the institutionalization of widespread exemptions to husbands and fathers, the book argues that modern states acceded to paternal authority in institutionalizing conscription, so that men's familial authority persisted as a source of competition to state authority. The book concludes by considering the extent to which familial authority continues to compete with contemporary state power. The first of its kind, this carefully researched book combines an ambitious range of scholarly traditions and offers an original comparison of how protection of men's household authority affected one of the paradigmatic institutions of modern states.
New Book on the Sociology of Bourdieu
Swartz, David L. 2013. Symbolic Power, Politics, and Intellectuals: The Political Sociology of Pierre Bourdieu. University of Chicago Press.
Co-winner of the 2014 History of Sociology Section Distinguished Scholarly Publication Award.
Power is the central organizing principle of all social life, from culture and education to stratification and taste. And there is no more prominent name in the analysis of power than that of noted sociologist Pierre Bourdieu. Throughout his career, Bourdieu challenged the commonly held view that symbolic power—the power to dominate—is solely symbolic. He emphasized that symbolic power helps create and maintain social hierarchies, which form the very bedrock of political life. By the time of his death in 2002, Bourdieu had become a leading public intellectual, and his argument about the more subtle and influential ways that cultural resources and symbolic categories prevail in power arrangements and practices had gained broad recognition.
In Symbolic Power, Politics, and Intellectuals, David L. Swartz delves deeply into Bourdieu's work to show how central—but often overlooked—power and politics are to an understanding of sociology. Arguing that power and politics stand at the core of Bourdieu's sociology, Swartz illuminates Bourdieu's political project for the social sciences, as well as Bourdieu's own political activism, explaining how sociology is not just science but also a crucial form of political engagement..
Upcoming Conferences and Workshops
CAPITALISM & SOCIALISM: UTOPIA, GLOBALIZATION and REVOLUTION (From Andrew Buck)
A Multi-Disciplinary Conference at New Harmony, Indiana
6 – 8 November 2014
Proposals are due 26 May 2014
KEYNOTE SPEAKERS
Joyce Appleby (History, UCLA): Author of The Relentless Revolution: A History of Capitalism (2010); past president of the American Historical Association and the Organization of American Historians
David F. Ruccio (Economics, University of Notre Dame):  Author of Development and Globalization: A Marxian Class Analysis (2010) and Economic Representations: Both Academic and Everyday (2008)
Erik Olin Wright (Sociology, University of Wisconsin-Madison):  Author of Class Counts: Comparative Studies in Class Analysis (1997) and Envisioning Real Utopias (2010); past president of the American Sociological Association
New Harmony, Indiana – the home of well-known communalist experiments in the early nineteenth century – will host a conference on "Capitalism & Socialism: Utopia, Globalization and Revolution" on 6 – 8 November 2014. The conference coincides with the Bicentennial of New Harmony's founding by German Harmonists in 1814. New Harmony is probably best known as the site of Welsh industrialist Robert Owen's experiment in communal living in 1825. As a factory owner and manager in early nineteenth-century Scotland, Owen achieved great success in the new regime of modern capitalism. But as a critical observer of the effects of industrialization on British society, he was also a reformer and one of the "utopian socialists" described by Marx. The legacy of Robert Owen and the Bicentennial of New Harmony are particularly relevant as the world emerges from the shadow of the recent economic crisis and as socialism, seemingly banished with the failure of socialist experiments in Eastern Europe and Russia at the end of the last century, has returned to the political and economic lexicon.
New Harmony is located on the banks of the Wabash River, close to Evansville, the University of Southern Indiana and Evansville Regional Airport. Conference participants will find in historic New Harmony a setting that provides the opportunity to relax and engage with other scholars in a quiet and charming small-town setting. Registration includes the costs of conference participation and meals.
Panel and individual paper proposals: "Capitalism & Socialism" is a multi-disciplinary conference that welcomes presenters from economics, history, political science andsociology, as well as the humanities. We seek proposals for full panels (three presenters, chair and discussant) or individual papers on topics related to Capitalism and Socialism, past and present. Presentations should be twenty minutes in length. Topics might include, but are not limited to: utopia, globalization, revolution, new social movements, real/ideal, sustainability, transitions from socialism to capitalism/capitalism to socialism, varieties of capitalism/socialism, legacies/visions of Robert Owen, spatial politics, master narratives, the political economy of utopia, colonialism, science and religion.
For information on individual and panel submission, registration, accommodations and New Harmony, please visit our website at  http://www.usi.edu/newview
Dates: Proposals are due by 26 May 2014 and the conference is scheduled for 6-8 November 2014.
Contact Casey Harison at: charison@usi.edu.
Second International Conference on Survey Methods in Multinational, Multiregional and Multicultural Contexts (3MC)  (From Tom W. Smith)
July 2016, Chicago
As part of an ongoing effort to promote quality in multipopulation surveys and to raise the level of methodological expertise in various applied fields of comparative survey research, the Second International Conference on Survey Methods in Multinational, Multiregional and Multicultural Contexts will be held July 2016 in Chicago (3MC 2016).
This conference will bring together researchers and survey practitioners concerned with survey methodology and practice in comparative contexts. It will provide a unique opportunity to discuss and present research that contributes to our understanding of survey needs and methods in multi-cultural, multi-national, and multi-lingual contexts. Conference contributions will help document current best practices and stimulate new ideas for further research and development.
We invite all interested researchers and practitioners to submit abstracts to be considered for Invited Papers. An accompanying edited volume presenting state-of-the-art research and practice will be published with John Wiley & Sons. The expectation is that Invited Papers become chapters in the edited volume.
Abstracts should be between 700– 1000 words. The deadline for submitting abstracts is July 1, 2014. They can be submitted at the CSDI website (http://www.csdiworkshop.org); there you will link to 3MC 2016 under EVENTS.
If you have questions relating to submitting an abstract please contact Timothy Johnson at timj@uic.edu or Beth-Ellen Pennell at bpennell@umich.edu.
Unless advised otherwise, we will pass on abstracts which cannot be accepted as Invited Papers to have them considered as Contributed Papers at the conference. The first individual call for Contributed Papers at the conference will follow in late 2014.
CSDI is the acronym for the International Workshop for Comparative Survey Design and Implementation, which heads the initiative for this conference. CSDI meets every year for an annual workshop. More information is available on the CSDI website (see above).
On behalf of the 2016 3MC Conference organizing committee: Timothy Johnson, Beth-Ellen Pennell, Lars Lyberg, Peter Ph. Mohler, Alisu Schoua-Glusberg, Tom W. Smith, Ineke Stoop, Christof Wolf.
Mid-Term Conference of the Political Sociology Section – Italian Sociological Association (from Lorenzo Bosi)
University of Salento, Lecce – Italy
October 16-17, 2014
Call for papers for the Workshop: Democracies, Political Parties and Social Movements
Chairs: Lorenzo Bosi, European University Institute, email: lorenzo.bosi@eui.eu and
Fabio de Nardis, University of Salento, email: fabio.denardis@unisalento.it
Citizens in contemporary societies question the concept of democracy, at least in its liberal-formalistic conception. Electoral abstensionism, anti-politics, the emergence of new populist and nationalist parties are some of the more visible indicators showing how much democratic practices and institutions are now days challenged. Some social scientists have attempted to systematize these processes by coining also successful expressions, such as "post-democracy" (Crouch 2004) or "counter- democracy" (Rosanvallon 2006), in order to point out the risks as well as the implicit opportunities of the gradual rethinking of the concepts of politics and democracy. At the same time of such deterioration of politicalrepresentation, which is nothing else rather than a crisis of legitimacy, we are witnessing a growing capacity of civil society to mobilize through social movements and more or less formal networks capable of giving life even to forms of radical public protest, demonstrating a growing demand for politics and for more spaces of democratic action. If on the one hand the aim of this workshop is to debate where contemporary societies are moving in terms of political participation (conventional and/or unconventional) on the other hand we also aim to instigate further dialogue between scholars coming from different compartmentalized fields, such as democratic theory, political parties and social movements studies. This would give us the opportunity to throw up a series of hotly debated questions, including:
·     What is the relation between political parties and social movements?
·    What is the impact that social movements have on political parties?
·    How do social movements institutionalize in political parties?
·    What is the impact for the movements themselves once certain strands institutionalize?
·    Does the institutionalization process facilitate successive policy outcomes?
·    How do political parties use social movements?
·    What is the impact social movements have on contemporary democracies?
·    Why do contemporary citizens withdraw from political parties activism and join social movements?
·    Do representative democracies need to survive political parties and/or social movements?
We welcome papers that address three main issues: (1) conceptual and theoretical thinking about democracies, political parties and social movements; (2) methodological reflections about how to deal with the subject matter and how to avoid the obstacles that have hindered previous research, from both a quantitative and qualitative perspective; (3) empirical analyses of the subject matter, in particular, but not exclusively, comparative studies encompassing different countries.
DEADLINES:
For submission of your abstracts/papers, please refer to both of the chairs:
– Submission of short abstracts (about 250 words): 15th May 2014
– Selection of abstracts: 30th May 2014
– Submission of papers: 1st October 2014
Participation in the Conference is free of charge For all the paper givers, subsistence (2 coffee breaks, 1 lunch, 1 social dinner) and accommodation expenses only for one night in a partner Hotel (or October 16 or October 17) will be covered by the University of Salento. Travel expenses should be instead covered by personal funds.
For organizational queries, please address to:
Prof. Fabio de Nardis
tel: +39 339 3622420
email: fabio.denardis@unisalento.it
New book on the US Middle Class
Leicht, Kevin T. & Scott T. Fitzgerald. 2014. Middle Class Meltdown in America: Causes, Consequences, and Remedies. Routledge.
In accessible prose, this short text provides a sociological understanding of the causes and consequences of growing middle class instability, with an abundance of supporting, empirical data. The book also addresses what we, as individuals and as a society, can do to put middle class Americans on a sounder footing. Designed to be used as supplemental text in courses on inequality, social problems, economic and political sociology, public policy and other related topics. More information and complimentary review copies are available upon request from Routledge or by emailing Margaret.Moore@taylorandfrancis.com.
New book on shared values in the US
Wayne Baker. 2014. United America: The surprising truth about American values, American identity, and the 10 beliefs that a large majority of Americans hold dear. ReadTheSpirit Books.
Americans may seem to be hopelessly divided, but UNITED AMERICA shows that Americans are united by a set of 10 core values—values that are strongly held by a large majority, shared across demographic, religious and political lines, and stable over time. Based on four national surveys conducted by the University of Michigan Institute for Social Research, these 10 values include respect for others, symbolic patriotism, freedom of expression, pursuit of happiness, and justice and fairness. The book is written in an accessible style for a general audience. Free discussion guides and other resources are available www.UnitedAmericaBook.com.
New book on the Origins of Policy Ideas (Forthcoming April)
John L. Campbell & Ove K. Pedersen. 2014. The National Origins of Policy Ideas: Knowledge Regimes in the United States, France, Germany, and Denmark. Princeton, NJ: Princeton University Press.
In politics, ideas matter. They provide the foundation for economic policymaking that in turn shapes what is possible in domestic and international politics. Yet until now, little attention has been paid to how these ideas are produced and disseminated, and how this process varies between countries. The National Origins of Policy Ideas provides the first comparative analysis of how "knowledge regimes"—communities of policy research organizations like think tanks, political party foundations, ad hoc commissions and state research offices, and the institutions that govern them—generate ideas and communicate them to policymakers.
John Campbell and Ove Pedersen examine how knowledge regimes are organized, operate, and have changed over the last thirty years in the United States, France, Germany, and Denmark. They show how there are persistent national differences in how policy ideas are produced. Some countries do so in contentious, politically partisan ways,
while others are cooperative and consensus oriented. They find that while knowledge regimes have adopted some common practices since the 1970s, tendencies toward convergence have been limited and outcomes have been heavily shaped by national contexts.
Drawing on extensive interviews with top officials at leading policy research organizations, this book demonstrates why knowledge regimes are as important to capitalism as the state and the firm, and sheds new light on debates about the effects of globalization, the rise of neoliberalism, and the orientation of
comparative political economy in political science and sociology.
Participation and its Discontents: a section blog discussion and ASA conference workshop
The Editors in Chief of Mobilizing Ideas are very pleased to announce the launch of a new project sponsored by the Political Sociology section, which we are calling the Participation Initiative. At the ASA meetings in San Francisco, we will be dedicating one of our section sessions to an alternative, workshop-style format on the topic of "Participation and its Discontents." Beginning with an open blog discussion (which we are launching today!) this session will not include formal paper presentations, but rather rely on short memos and moderated discussion among scholars working in this area. We invite a broad conversation that looks at the topic of "participation" in context, avoiding assumptions that it is inherently transformative or irremediably regressive. The discussion will be moderated by Gianpaolo Baiocchi, Pablo Lapegna, Phillip Lewin and David Smilde. Phillip Lewin has developed a fantastic new blog in which to begin the first phase of the discussion, which can be found here: http://participationanditsdiscontents.tumblr.com/
Shortly before ASA 2014, the four moderators will draw from the exchanges generated in the blog to propose discussion questions for the session. Participants will be asked to come prepared to discuss them. In the meantime, you can participate by (a) proposing blog posts to the moderators (via the link on the site) or (b) responding to blog posts via the comment sections. The moderators hope to post about one essay each week and invite a vigorous and feisty (albeit civil and constructive) discussion.
So please take a look today, and keep taking a look over the upcoming weeks and months! http://participationanditsdiscontents.tumblr.com/
"Social Trauma, Emotions, and Activism" essay dialogue
Mobilizing Ideas has recently launched a new essay dialogue entitled "Social Trauma, Emotions, and Activism." We invited contributors to reflect on how trauma and activism are related, focusing on questions such as: How do shared traumas like war, genocide, or natural disasters provide fuel for or obstacles to mobilization around those or other societal problems? Under what conditions are social traumas likely to result in mobilization, and are those mobilizations more likely to be focused on reconciliation or retaliation? When are narratives and frames that incorporate experiences of trauma likely to resonate and motivate, and when are they likely to further traumatize activists? Essays in this first round of posts on this topic focus on various empirical cases, including the Holocaust, the Israeli-Palestinian conflict, and South African Apartheid. As always, we invite you to join the discussion by posting comments on the posts.