Hironaka, Ann. 2017.
Tokens of Power: Rethinking War.
Cambridge University Press.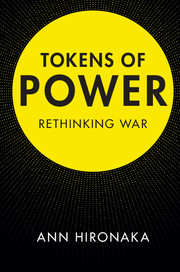 War presents a curious paradox. Interstate war is arguably the most carefully planned endeavor by states, yet military history is filled with disasters and blunders of monumental proportions. These anomalies happen because most military history presumes that states are pursuing optimal strategies in a competitive environment. This book offers an alternative narrative in which the pillars of military planning – evaluations of power, strategy, and interests – are theorized as social constructions rather than simple material realities. States may be fighting wars primarily to gain or maintain power, yet in any given historical era such pursuits serve only to propel competition; they do not ensure military success in subsequent generations. Allowing states to embark on hapless military ventures is fraught with risks, while the rewards are few.