Kallman, Meghan Elizabeth. 2020. The Death of Idealism: Development and Anti-Politics in the Peace Corps. Columbia University Press.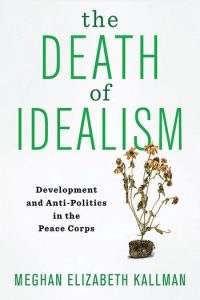 Peace Corps volunteers seem to exemplify the desire to make the world a better place. Yet despite being one of history's clearest cases of organized idealism, the Peace Corps has, in practice, ended up cultivating very different outcomes among its volunteers. By the time they return from the Peace Corps, volunteers exhibit surprising shifts in their political and professional consciousness. Rather than developing a systemic perspective on development and poverty, they tend instead to focus on individual behavior; they see professions as the only legitimate source of political and social power. They have lost their idealism, and their convictions and beliefs have been reshaped along the way.
The Death of Idealism uses the case of the Peace Corps to explain why and how participation in a bureaucratic organization changes people's ideals and politics. Meghan Elizabeth Kallman offers an innovative institutional analysis of the role of idealism in development organizations. She details the combination of social forces and organizational pressures that depoliticizes Peace Corps volunteers, channels their idealism toward professionalization, and leads to cynicism or disengagement. Kallman sheds light on the structural reasons for the persistent failure of development organizations and the consequences for the people involved. Based on interviews with over 140 current and returned Peace Corps volunteers, field observations, and a large-scale survey, this deeply researched, theoretically rigorous book offers a novel perspective on how people lose their idealism, and why that matters.