Gautney, Heather. 2022.
The New Power Elite.
Oxford University Press.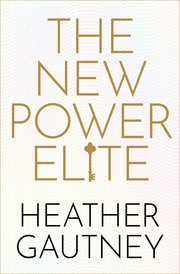 In 1956, radical icon C. Wright Mills wrote 
The Power Elite
, a scathing critique of elite power in the United States that has become a classic for generations of nonconformists and students of social and political inequality. With rising rates of inequality and social stratification, Mills' work is now more relevant than ever, revealing a need for a fresh examination of American elitism and the nature of centralized power. In
The New Power Elite
, Heather Gautney takes up the problem of concentrated political, economic, and military power in America that Mills addressed in his original text and echoes his outrage over the injustices and ruin brought by today's elites. Drawing from years of experience at the highest levels of government and in the entertainment industry, Gautney examines the dynamics of elite power from the postwar period to today and grounds her analysis in political economy, rather than in institutional authority, as Mills did. In doing so, she covers diverse, yet interconnected centers of elite power, from the US State and military apparatus, to Wall Street and billionaires, to celebrities and mass media. Gautney also accounts for changes in global capitalism over the last forty years, arguing that neoliberalism and the centering of the market in political and social life has ushered in ever more extreme forms of violence and exploitation, and a drift toward authoritarianism. A contemporary companion to Mills' work through a fresh critique of elites for the new millennium, 
The New Power Elite
 offers a comprehensive look at the structure of American power and its tethers around the world.