In the spotlight is Leftism Reinvented Western Parties from Socialism to Neoliberalism by Stephanie Mudge. Keep reading for three insightful reviews on her 2018 book by Thomas Janoski, Gabriel Chouhy Algorta, and Jeff Stilley.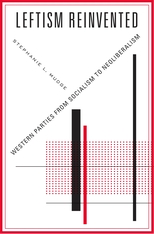 Is it the Left or the Right that We Should be Focused On or Both? Review of Stephanie Mudge's Leftism Reinvented
by Thomas Janoski, University of Kentucky
Two major books and a third have come out in the area of comparative political sociology in the last two years. Stephanie Mudge's Leftism Reinvented: Western Political Parties from Socialism to Neoliberalism (2018, Harvard University Press) and Daniel Ziblatt's Conservative Parties and the Birth of Democracy (2017, Cambridge University Press) followed by Sten Levity and Daniel Ziblatt's How Democracies Die (2018, Crown Publishing of Penguin).[1] Mudge follows social democratic, labor and democratic (US) parties in three periods: socialism (1900 to 1929 but centered on 1920), Keynesian revolution (1930 to 1974 but centered on 1960), and 'left' neoliberalism (1975 to 2005 centered around 1995).
She examines these three periods, focusing on economic policy shifts in four countries: the US, the UK, Germany, and Sweden. She focuses on party experts and how they have become economized in the middle period, and then share power with professional campaign experts in the third period. Her main conclusion is that we should pay attention to party experts because they articulate policy downward upon the rest of the party and the public in general. But the sub-text to the book is that left parties are the key to greater democracy and reducing endemic inequality in a capitalist economy. And a sub-sub-text is that Bill and Hillary Clinton sold out the left to neoliberalism.
Daniel Ziblatt examines the role of conservative parties in two of the same countries: the UK and Germany. Conservative parties have a major problem in that they represent rich people who are few, and in a mass party system how in the world are they going to keep their massive amounts of money when the non-rich and poor seemingly have little or no reason to vote for their candidates? Using the method of difference, he shows that conservative parties in the UK were able to extend their reach into the middle and working classes by building institutions that interested these two classes, and then pushed their message on non-income related issues like the empire and the Irish question. One of the main vehicles for doing this was the Primrose Society that operated a combination of fairs and political indoctrination in the Victorian period. German conservative parties mainly represented by the Deutschenationale Volkspartie (DNVP) stayed focused on elites and carried a very small constituency. Ziblatt's major point is that moderate conservative parties are entirely necessary to protect democracy from the far right like the Nazi Party in Germany. Levity and Ziblatt follow this with How Democracies Die, which is a more popular book implementing their principles and also applying them to Donald Trump. One criticism of Ziblatt's thesis would be why he did not focus on the Center Party during Weimar which was a larger conservative (or maybe center) party during the Weimar Republic.